THE EUROPEAN SCRIPT AWARD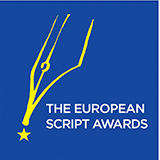 The EUROPEAN SCRIPT AWARDS are delivered to European upcoming scriptwriters by the European Alliance for Television and Culture.
Helsinki Script had the honour of hosting this prestigious award in the years 2016 – 2019.  As our event now is taking a break and changing form, we are happy to announce that from 2020 the awards will be hosted by the Geneva International Film Festival.
Please click HERE for information and updated registration policies.